The DroneSense flight control app interface consists of several elements: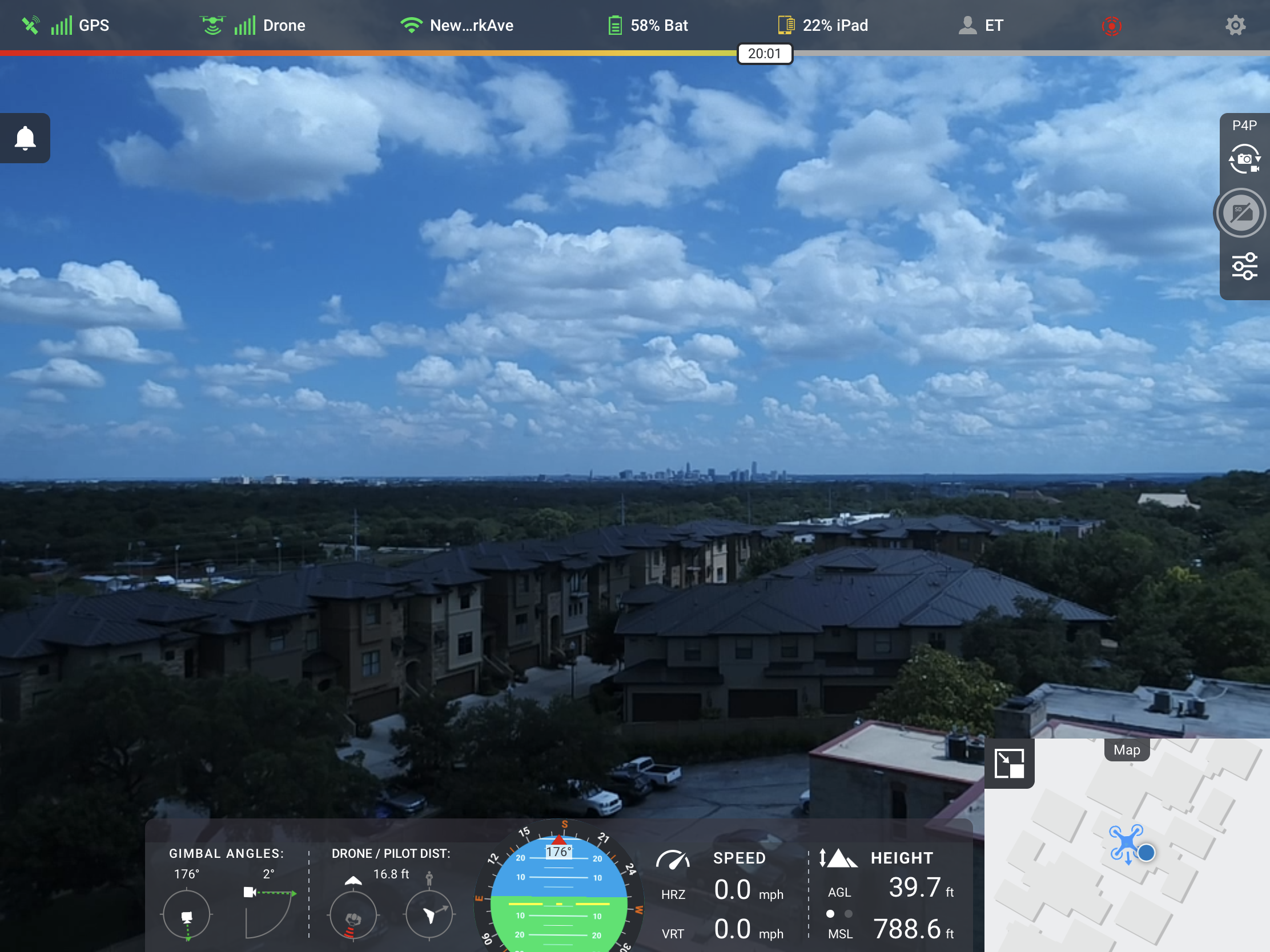 Map: The map provides a view of drone location, as well as the location of other active drones in your organization.
Telemetry: The bottom of the window displays telemetry information for your drone - gimbal info, drone distance and bearing, attitude, speed, and altitude info.
Status bar: The top bar displays connection information for GPS, drone and network status, battery levels, obstacle avoidance status, and settings. Switch users or log out from the user icon.
Camera controls: Use the camera controls to switch between video and still photography, take pictures/record video, and access camera settings.
Map controls: Zoom in or out, locate a drone operator, center the map on a drone, or switch map layers (street, satellite, hybrid, or terrain).
Video Feed: View the camera's video feed. Tap the show/hide icon to show or hide the video. Tap on the video to swap with the map.
Notifications: Displays active alerts sent to the operator.
Installing the DroneSense Mobile Flight Control App
The DroneSense Mobile flight control app works on iPads as well as DJI Smart Controller and CrystalSky devices. Complete the following steps to download the DroneSense app for your device.
iOS/iPadOS Devices
On the iPad/iPhone, open the App Store and search for and install the DroneSense app.
Smart Controller/CrystalSky
Open Google Chrome (or other available browser application) on the device.
Navigate to the following page: https://dronesense.com/android
Follow the instructions on the page to download and install on your device.
Note that the file download might not be apparent on the CrystalSky, so check your Downloads folder to see that it completed. On the Smart Controller, the download icon in the top corner will stop pulsing when the download is complete.
After completion, the DroneSense flight control app should now display under Applications.
Once installed, you can log in using the Organization ID, user credentials, and PIN you set up during registration; choose a mission to join or choose to go offline; and begin flying like you would in the flight app from your drone's manufacturer.