Map Layers allow your organization to add custom map elements as an additional layer over the map. These layers are tied to teams and can be applied to missions.
DroneSense includes a wide range of commonly used point markers, and a tremendously flexible editor for drawing lines, rectangles, circles, and arbitrary polygons on the map.
Complete the following steps to add a map layer.
From Operations Hub, click the Map Layer Manager icon on the upper right of the map.

Select Feature Layers to choose from or add new layers, or Esri Layers to add layers by importing them from an Esri portal.
Feature Layers
If you selected Feature Layers, you can show or hide all, add, or sort the available feature layers from the options at the top of the panel.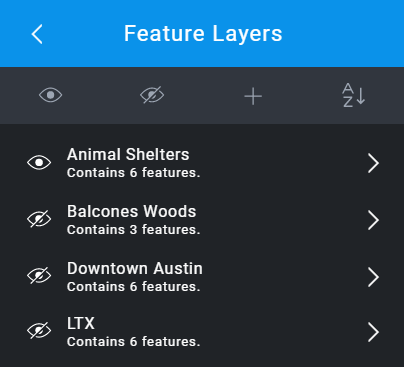 You also can select the view icon on the left for a feature layer to view (or hide) that layer.
If no feature layers are listed, or if the set you're looking for does not exist, click the + button to create it. NOTE: You might not have access to a feature layer if it is associated with a different team permission.
Click the name of a feature layer to view its details.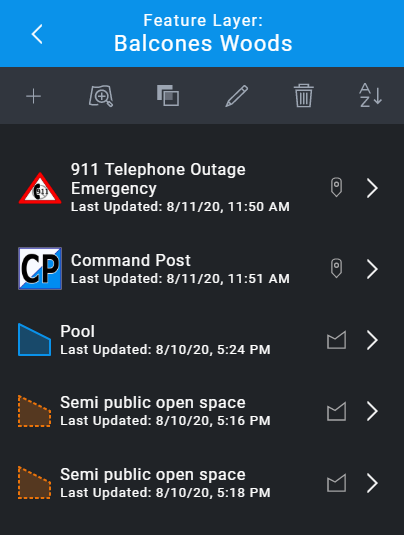 From this panel, you can add new elements to the layer, zoom to view the extent of the layer on the map, adjust the transparency of the layer, edit the layer's properties, delete the layer, or sort the elements listed.
Esri Layers
If you selected Esri Layer, provide the information in the dialog that appears and click Create. Check out this article for more information on Esri Layers.