The DJI M200 Series is a powerful drone platform, but it does have some specific characteristics that you should be aware of when flying an M200 or M210 with DroneSense.
Batteries
The M200 Series drones use two batteries - either the TB50 or TB55. Both batteries need to match. You cannot use different size batteries on the same drone.
Battery charge levels need to be in sync. If there is a significant difference in voltage between each battery, the drone will not take off. If a voltage mismatch occurs in flight, the drone will automatically trigger a Return to Home. Note that the DroneSense mobile app does not currently display the separate voltage level for each battery, nor does it currently report a notification indicating the reason for the Return to Home command. Both of these features are planned.
TIP: Label battery pairs to ensure that the same batteries are used together.
DJI's firmware is currently very conservative with dual-battery drones. It is best to remain vigilant with any M200 Series drone, and not dismiss or exit a Return to Home command triggered by a low battery state until DJI releases updated firmware that addresses these battery issues.
Cables
With all drones, always use officially licensed cables for the connection between the controller and the iPad, preferably Apple-manufactured cables.
The Cendence controller is particularly sensitive to third party cables. You also should be especially vigilant with cable maintenance when using a Cendence controller.
Replace any frayed cables and watch for loose connectors on the cable and the controller.
Be sure to include inspecting and cleaning the ports on your tablets and controllers as part of your regular maintenance.
Camera Positions and Video Streaming
The way DJI has implemented cameras on the M210 requires that some cameras be connected to specific positions on the drone.
If you are only using a single sensor on a dual-mount setup, make sure to only use position I (on the right side as you are facing the drone).
For thermal cameras, make sure the XT1 camera is always mounted in position II, or the XT2 is always mounted in position I.
If you are using an X4S camera, make sure it is connected to position I.
If a Z30 is attached to position II, camera panning does not scale properly when the camera is zoomed in, resulting in difficulty tracking the image. To get around this limitation, you can use Tap Zoom to change the focal point. You will need to turn off Gimbal Lock in the Camera Settings menu for TapZoom to work correctly with this configuration.
The M210 drone also can encounter issues with pixellated video when using a Z30 as one of the cameras. When using this setup, try using the pill buttons to switch the feed to the FPV or Map and then back to the Z30. This can reset the image resolution in many cases.
Network and RF Connectivity
For best performance, use 6mbps for downlink speed. You will need to set this in DJI GO, DJI GO4, or DJI Pilot. You may need to adjust this value down when flying in areas with poor network quality or electromagnetic interference.
If you are using a tablet connected to Wi-Fi, the controller-to-drone connection might interfere with video transmission on the iPad. Therefore, check to see which band your iPad is connected to for Wi-Fi and choose the other band for the drone connection (2.4 MHz or 5.8 MHz). For example, if your tablet connects on the 2.4 MHz band, set the drone's connection to 5.8 MHz in the DJI app.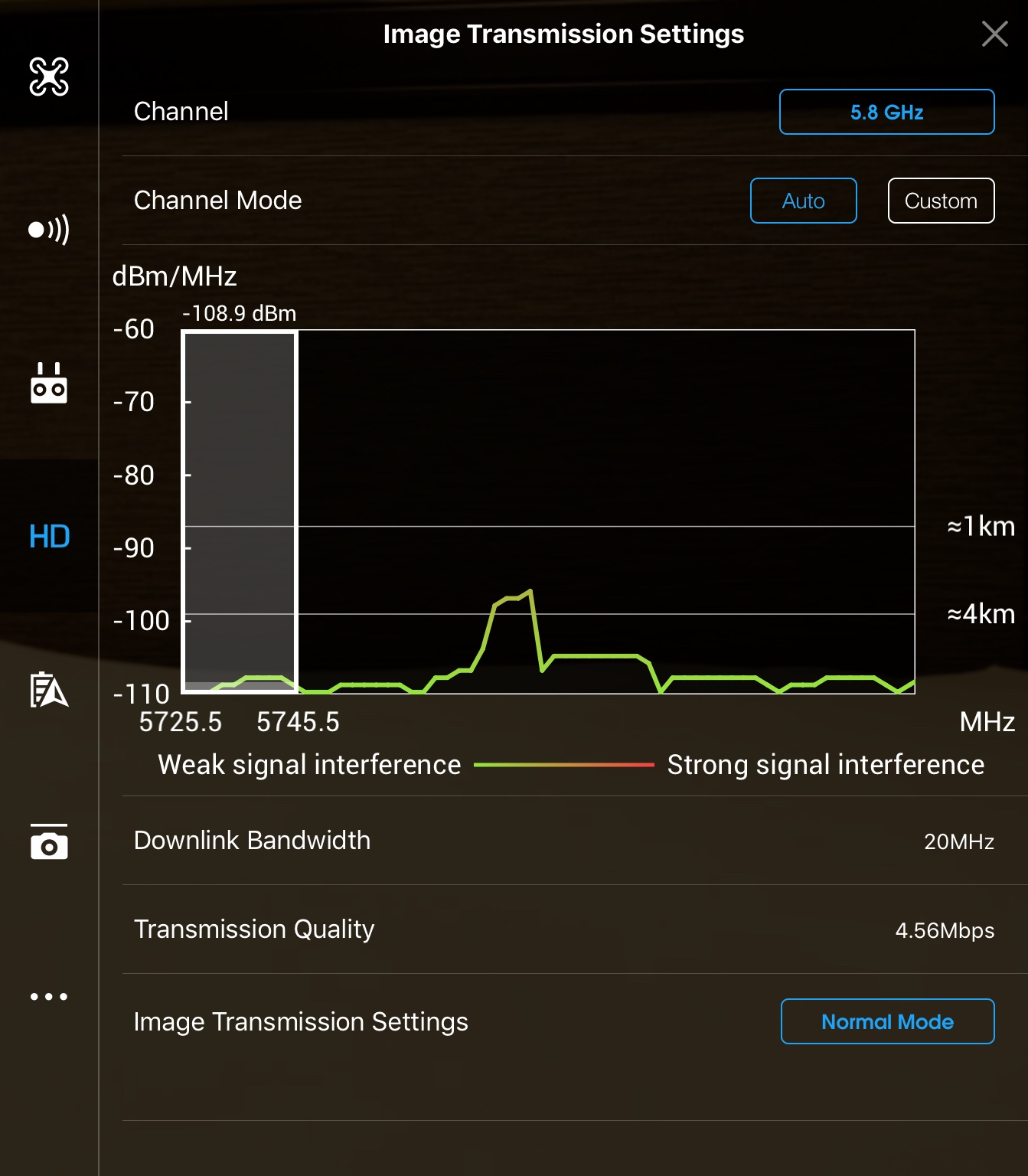 Dual Controllers
Because each controller communicates with the drone, even more of the bandwidth is being consumed. You might need to adjust the downlink speeds or the band each controller uses to get the best performance for the controllers and still ensure sufficient bandwidth for video streaming on Wi-Fi setups.
DroneSense's current dual controller (or Master-Assistant) support has some limitations on dual gimbal drones like the M210. As a result, we do not recommend using dual camera setups with the M210 while in Master-Assistant configurations. For advanced users using dual cameras, the operator in Master mode should avoid switching between video feeds in a Master-Assistant setup, as it can cause the Assistant's feed to change.