Automated survey actions - sometimes referred to as mapping missions - allow you to create 2D or 3D models of an area.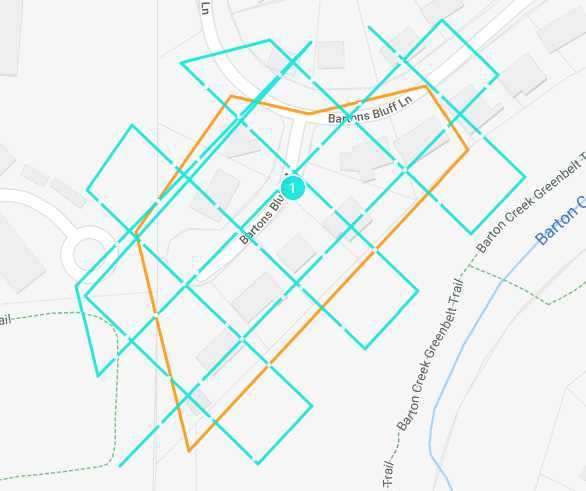 Surveys consist of a Speed, an Altitude, a Ground Sampling Distance (GSD), and Gimbal Angle. Altitude and GSD are linked.
You can choose a 2D Orthomosaic or 3D Rendered preset. 2D Orthomosaic surveys consist of multiple images joined together to form a single image. 3D Rendered surveys create a three dimensional model that you can view from multiple angles.
Creating Survey Flight Plans
To add a survey to a flight plan, complete the following steps.
Open the Flight Planning view and tap the Survey icon.


Tap the map to the location you want for the center of the survey.
Drag the handles of survey to resize the area. For more than four-sided areas, tap the + buttons to add additional handles.
Adjust the Speed using the sliders or +/- buttons on the settings pane.
The Altitude and GSD resolution are linked. You can adjust these values using the sliders or +/- buttons.
Change the Gimbal Angle as needed using the sliders or +/- buttons.
Specify overlaps in the overlaps menu. Front Overlap adjustments will add or remove additional shutter trigger locations. Increasing or decreasing Side Overlap will add or remove additional passes to the flight plan.

** as a rule of thumb always keep overlaps to 70-75%**


To adjust your flight plan for 3D renderings or point cloud generation, simply toggle the 3D Mode switch on. This will add a cross hatch pattern to your flight plan.

** Additional manual flights with oblique photo captures will be required when attempting to generate a usable 3D model or point cloud.**


Once you have created your flight plan and adjusted all of the parameters to your specifications, tap Add to Plan.

**You can edit survey locations by tapping Edit on the action, or by tapping the center point on the map**
Survey Manual Options
Because they consist of several highly coordinated events, surveys generally do not support manual adjustments to speed, altitude, and gimbal angle.
Some drones will respond to manual interaction on the controller during a survey, but you should avoid interfering with a survey action unless you need to assume manual control for other reasons.
As with all automated actions, you are always free to pause a survey, return to home, or cancel and assume manual flight or load a new flight plan.