You can choose from a wide range of options for how to send and receive notifications to users in your organization for things such as updates on UAS operations, Maintenance summary reports, upcoming or past due training or certifications, incidents, and updates about any role changes within teams for your organization's members.
These email notifications can be delivered as they are available, or on a regular rollup email that combines all notifications on a daily or weekly basis.
Setting Up Notifications
To configure email notifications, go to Admin > Notifications. The following page will appear: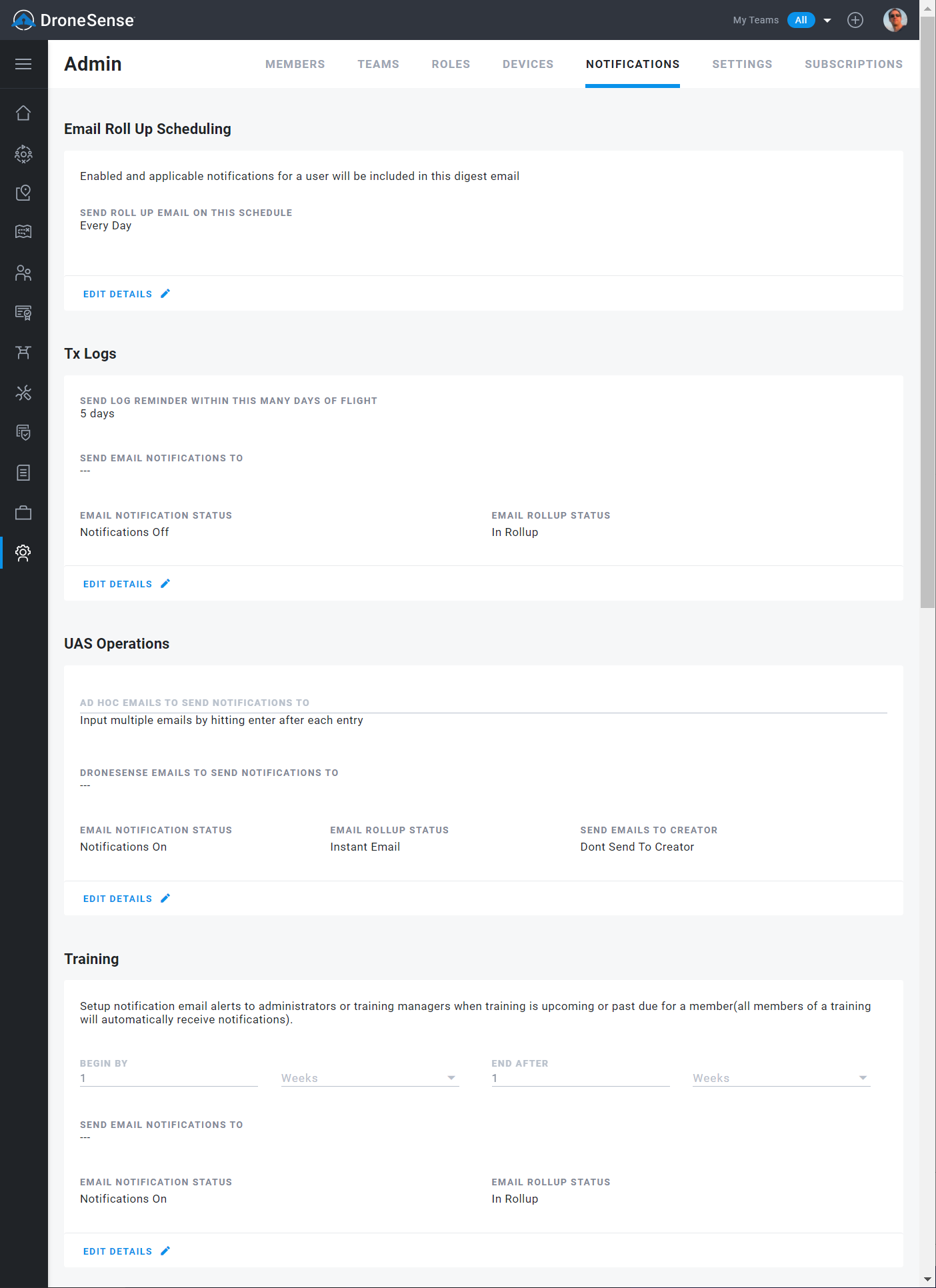 To edit each section, click Edit Details.
Each section provides the option to choose whether to send notifications for that kind of information, whether to include the notifications in the roll up email (if enabled), and who to send notifications to.
Email Roll Up Scheduling: Allows you to opt to combine all notifications into a single email. You can specify recipients and choose to receive the summary email on a daily or weekly basis.
Tx Logs: For organizations with the Texas Logs feature, you also can choose how many days after an eligible flight is completed to send a notification.
UAS Operations: You can choose to send ad hoc emails to recipients, opt to send email notifications immediately upon NOTAM filing, and opt to send notification emails to the creator of the NOTAM.
Training: Choose a window around the due date for a training (in days or weeks before and after) to send notifications.
Maintenance: Choose the range before and after when maintenance is due for each type of tracking you've enabled in your maintenance schedules - calendar, flight count, flight hours, or battery cycles.
Incidents: You can opt to send a notification email immediately upon creation of an incident.
Teams and Roles: Sends notifications whenever a team member's role has changed. You can opt to send when a role as been added or removed, or both.