The camera controls are located on the right side of the DroneSense flight control app interface. The controls and settings that are available will depend on the camera that is attached to the drone.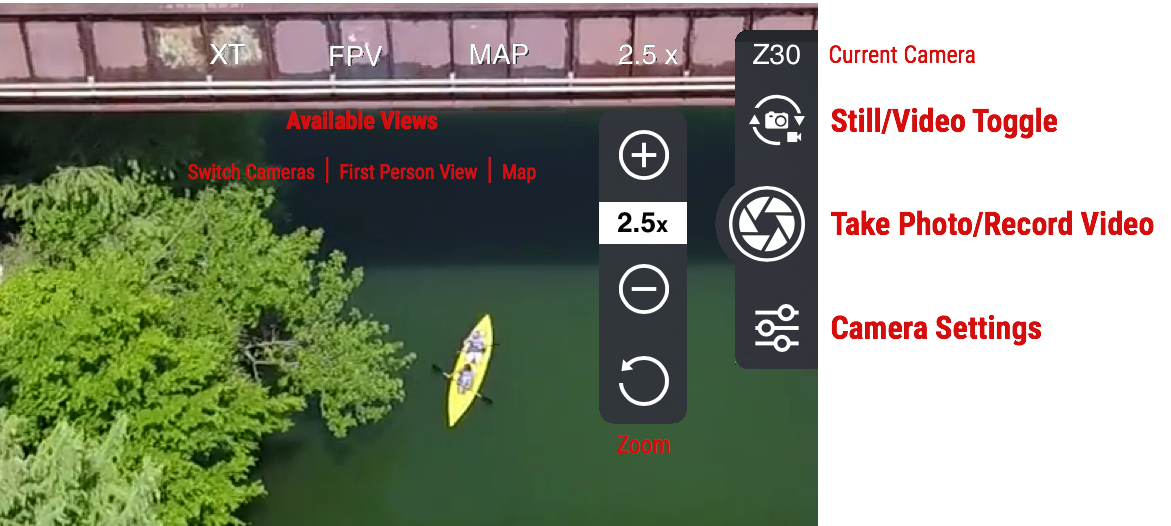 The camera controls bar contains the following options:
Still/Video Toggle: switches between still camera and video modes.
Take Photo/Record Video: takes a photo or starts recording video, based on which mode you are using. For video, tap the button again to stop recording.
Camera Settings: opens a series of menus for the available camera settings for your device. Choose from image format, resolution, and whether to enable gimbal lock. Thermal settings are also available here for the Zenmuse XT1 and XT2. Additional settings may be available depending on the camera installed.
The top of the camera controls bar identifies the current camera. To the left are other view options, which will vary depending on the type of drone you are using and which cameras are connected:
Zoom: Tap the number shown to view the menu, and tap +/- to adjust the zoom setting. Tap the circular Reset button to return to 1X magnification.
Map: switches the main window to the map view.
FPV: switches to the First Person View camera.
Additional Cameras: Tap to switch the main view to the other attached camera, when available.