DroneSense provides a single tool for creating and updating custom preflight checklists to ensure your program is running safely and efficiently.
The Safety > Checklists page displays cards for each checklist you have set up for your organization, sorted with the most recent first.
You can use the filter to show only preflight or maintenance checklists.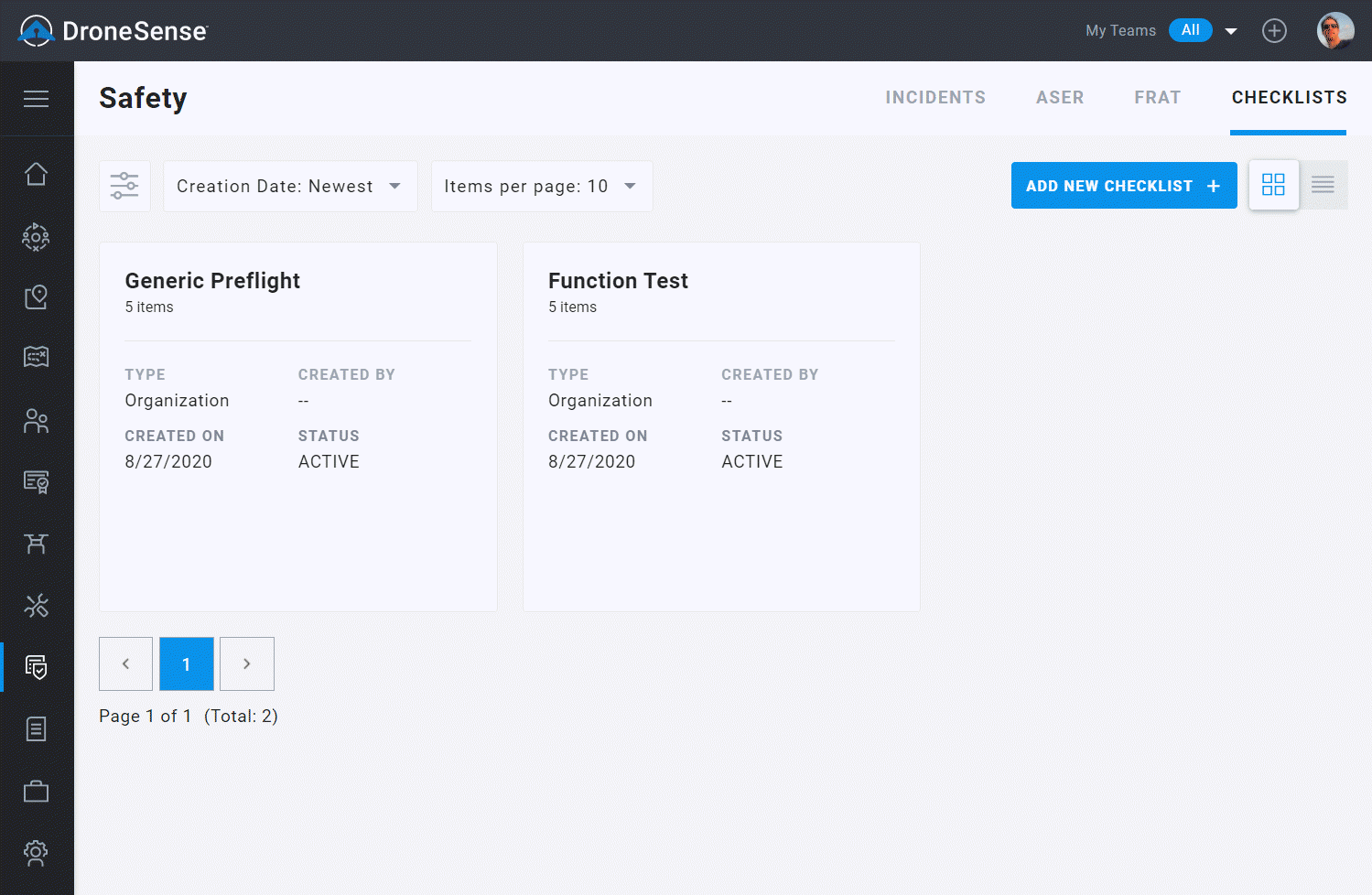 Click the checklist card to view its details.
Preflight Checklists
Preflight checklists ensure your operators are following your organization's established procedures to reduce risk to equipment and all individuals on scene.
NOTE: Preflight checklists are currently iOS/iPadOS only. Android support is coming soon.
Creating Preflight Checklists
Complete the following steps to create a Preflight Checklist:
On the Safety > Checklists page, click Add New Checklist.
On the page that appears, provide a name. The Type fields currently only support Organization-wide Preflight checklists. Additional types are slated for a future release.
If you want this to be the active checklists that appears in the flight control app, click Activate Checklist. You can only have one active preflight checklist in the current release.
Provide checklist items by clicking New Checklist Step and entering the text for the step you want the operator to complete. By default, each item you add is required unless you deselect the Mandatory checkbox.


Click + to create a new checklist item. You can reorder checklist items by dragging and dropping them above or below other items in the list.
When you are finished click Create Checklist.
Sample Preflight Checklist Items
File and/or check NOTAMs

Check weather conditions

Obstacle and general site scan

Check props, airframe, battery seal

Gimbal lock and lens cover removed

SD card inserted

Compass calibrated

Antennas properly positioned

Check GPS and signal strength

Check battery levels (drone/device/controller)