Complete the following steps to cache a section of the base map for offline use.
Login and select a mission to access the main view of the app.
Select the base map of choice and zoom to the area of the map you want to cache for offline use.
Click the Map Layer Management icon.


Click the Select icon in the lower left to access Caching mode.


The way you select a section of map to cache differs slightly between Android and iOS:
(Android) Zoom and move the base map within the screen map area and click Save in the lower right to cache the base map on the screen.


(iOS) Draw a diagonal line to create a box for the area you want to cache for offline use and click Apply in the lower right corner to cache the selected section of the base map.


An alert will appear to indicate caching has started, and again when it has completed.
Open Map Layer Management again and select Cached Base Maps > Active Layers. Your cached maps are saved under this folder.


Enabling/Disabling and Deleting Cached Maps and Imagery Layers
You can toggle the Enable Layer Downloading option on or off as needed, view used storage, and delete all downloaded layers from this screen.
Tap Drone Settings (gear icon on top right of the screen) > General and select Layer Downloading.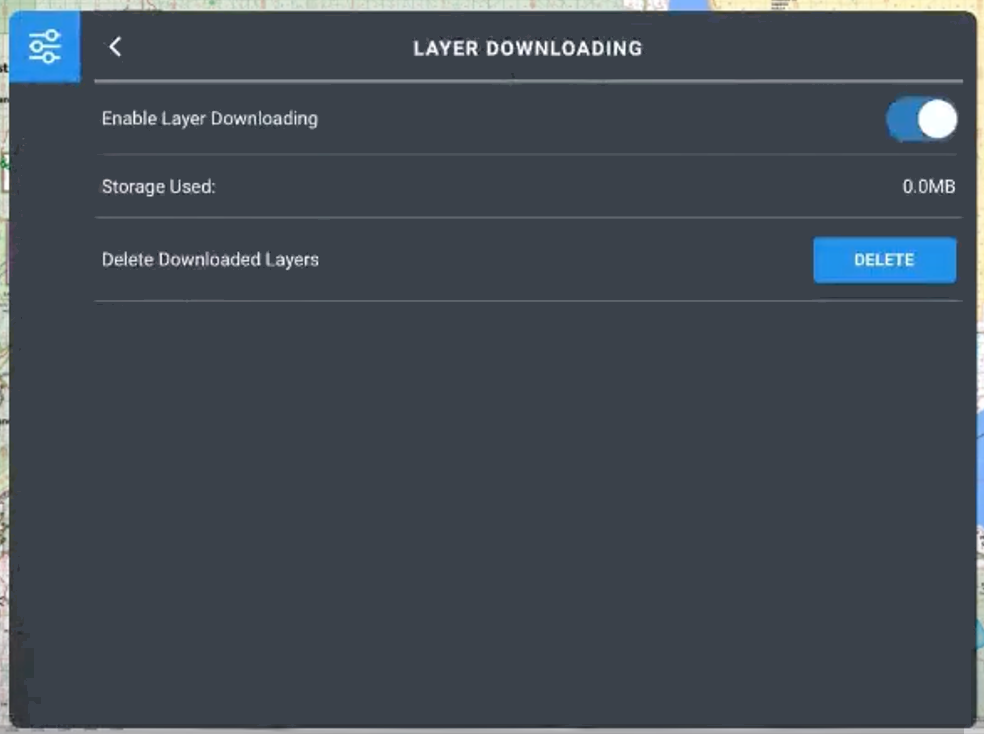 From here you can enable/disable map layers and cached maps, as well as clear all downloaded layers.
Renaming Cached Base Maps
To change the display name for a cached base map, tap its Settings button (three vertical dots on the right side of its row) and select Rename.
Enter the new name and tap Done when you are finished.