Livestreaming from Axon Air powered by DroneSense can be accessed both from Axon Air Web under the Operations Hub tab on the left side of the page, and in Axon Evidence (evidence.com) under the Respond tab along the top of the page.
Viewing the Livestream in Operations Hub
Complete the following steps to access Operations Hub:
Open your browser to https://axon.dronesense.com
Log in using your organization ID and user credentials.
On the left menu bar, click the Operations Hub icon:


Operations Hub consists of several elements: the map, the video dock, the Mission Manager, map tools, and the Map Layer Editor:
Choosing a Mission and Streaming
All activity on Operations Hub is run within the context of a mission. Missions consists of drones and any additional map layers shared with the mission.
Click the Mission Manager in the upper left of the map to view the currently active missions.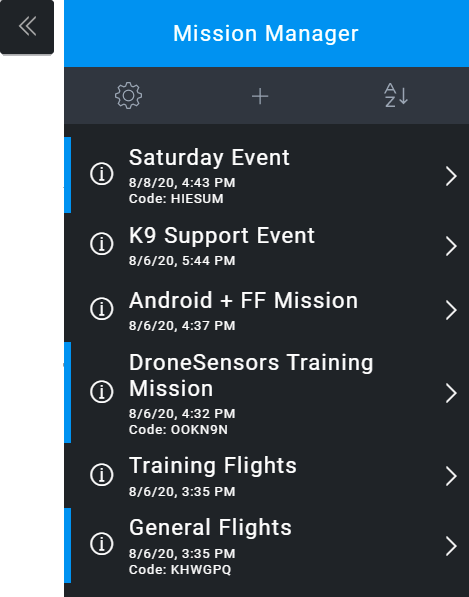 Missions with active drones or other assets will have a green icon on the left.
Select a mission by clicking the checkbox to the right of its name.
If the mission you're looking for isn't listed, you can click the + button to create one or join a mission using a code provided by another DroneSense user.


Open the Drones list to view all the drones in the mission.


You also can view any feature layers added to the map by opening the Map Layers
To view all drones in the mission, click the Show All Drones
To view all video for drones in the mission, click the Show All VideoYou also can select individual drones and feeds by clicking the corresponding icon for each drone.
To view feature layers added to the map for the mission, click Map Layers and select individual elements or click the Show all Layers
You now can collapse the Mission Manager again by clicking its button. As any selected drone and their feeds become available, they will automatically appear. You can always reopen it to change which drones and feeds you want to view.
View a Livestream on Axon Respond
Live-stream from drone flying online (under a mission) can be viewed in Axon Respond. Unlike Operations Hub, the activity on Axon Respond is not run in the context of mission. Rather, the permissions for viewing a stream on Axon Respond is managed by agency level permissions.
A user with the permissions for Respond for devices can view a drone flying online within their agency.
More details about the live-streaming and various component on Respond can be found here: https://my.axon.com/s/article/Axon-Aware-and-Aware-Features#gps